In all things: Praise, Give Thanks and Pray
Whether its 2 people or 10 around your Thanksgiving table this year, we pray that being surrounded by family can bring much joy and peace to your Thanksgiving celebration. A quiet moment with scripture can be a reminder of your call to be a blessing to others. The Bible is filled with verses about gratitude that can encourage you to have Thanksgiving in your heart all year-round, not just on Thanksgiving!
Thanksgiving Bible Verses for Gratitude
"Give thanks to the Lord, for he is good; his love endures forever." 1 Chronicles 16:34
"Let the peace of Christ rule in your hearts, since as members of one body you were called to peace. And be thankful." Colossians 3:15
"Devote yourselves to prayer, being watchful and thankful." Colossians 4:2
"I always thank my God for you because of his grace given you in Christ Jesus."
1 Corinthians 1:4
"You will be enriched in every way so that you can be generous on every occasion, and through us your generosity will result in thanksgiving to God." 2 Corinthians 9:11
"For everything God created is good, and nothing is to be rejected if it is received with thanksgiving, because it is consecrated by the word of God and prayer." 1 Timothy 4:4-5
"Rejoice always, pray continually, give thanks in all circumstances; for this is God's will for you in Christ Jesus." 1 Thessalonians 5:16-18
"Do not be anxious about anything, but in every situation, by prayer and petition, with thanksgiving, present your requests to God. And the peace of God, which transcends all understanding, will guard your hearts and your minds in Christ Jesus." Philippians 4:6-7
"But I, with shouts of grateful praise, will sacrifice to you. What I have vowed I will make good. I will say, 'Salvation comes from the Lord.'" Jonah 2:9
"The Lord is my strength and my shield; in him my heart trusts, and I am helped; my heart exults, and with my song I give thanks to him." Psalm 28:7
"Offer to God a sacrifice of thanksgiving, and perform your vows to the Most High." Psalm 50:14
Thanksgiving Bible Verses for Praise
"Sing to the Lord, all the earth; proclaim his salvation day after day. Declare his glory among the nations, his marvelous deeds among all peoples. For great is the Lord and most worthy of praise; he is to be feared above all gods. For all the gods of the nations are idols, but the Lord made the heavens." 1 Chronicles 16:23-26
"And now we thank you, our God, and praise your glorious name." 1 Chronicles 29:13
"Through him then let us continually offer up a sacrifice of praise to God, that is, the fruit of lips that acknowledge his name." Hebrews 13:15
"The Lord is my strength and my shield; my heart trusts in him, and he helps me. My heart leaps for joy, and with my song I praise him. Psalm 28:7
"In God, whose word I praise—in God I trust and am not afraid. What can mere mortals do to me?" Psalm 56:4
"I will praise the name of God with a song; I will magnify him with thanksgiving." Psalm 69:30
"I will sing of the Lord's great love forever; with my mouth I will make your faithfulness known through all generations. I will declare that your love stands firm forever, that you have established your faithfulness in heaven itself." Psalm 89:1-2
"Oh come, let us sing to the Lord; let us make a joyful noise to the rock of our salvation! Let us come into his presence with thanksgiving; let us make a joyful noise to him with songs of praise! For the Lord is a great God, and a great King above all gods." Psalm 95:1-3
"It is good to praise the Lord and make music to your name, O Most High, proclaiming your love in the morning and your faithfulness at night, to the music of the ten-stringed lyre and the melody of the harp." Psalm 92:1-3
"Enter his gates with thanksgiving and his courts with praise; give thanks to him and praise his name." Psalm 100:4
"Let them give thanks to the Lord for his unfailing love and his wonderful deeds for mankind, for he satisfies the thirsty and fills the hungry with good things." Psalm 107:8-9
"Finally, brothers and sisters, whatever is true, whatever is noble, whatever is right, whatever is pure, whatever is lovely, whatever is admirable—if anything is excellent or praiseworthy—think about such things." Philippians 4:8
"Rejoice always, pray without ceasing, give thanks in all circumstances; for this is the will of God in Christ Jesus for you." 1 Thessalonians 5:16-18
A Thanksgiving Prayer in the time of COVID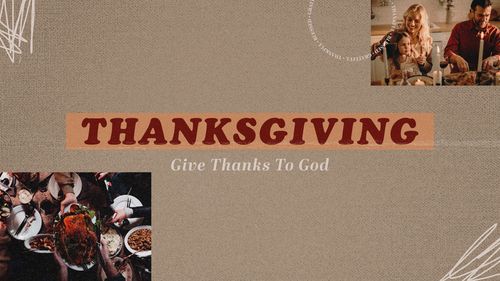 There's no way around it, it has been a difficult year. With so much heartbreak, division and illness, sometimes the only prayer we can muster is the prayer of the psalmist: "How long, O Lord?"

And now it's Thanksgiving, when we are supposed to be thankful. How, O Lord? If you are feeling the same broken heart, we found this beautiful prayer:

God Almighty, this has been a terrible year.

So much death. So much illness. So much misery, all around the world, for every human being. I can hardly believe it. And I certainly don't understand it.
It breaks my heart to think of how many people have lost family members, spent hours worried about sick friends in the hospital, not been able to attend funerals, been laid off from their jobs, seen their businesses closed and agonized over whether to send their children to school or not. Sometimes the only prayer I can say is the prayer of the psalmist: "How long, O Lord?"
And now it's Thanksgiving, when I'm supposed to be thankful. How, O Lord?
Maybe the only prayer I can utter this Thanksgiving is: Teach me to be grateful.
Teach me to be grateful for what I still have. Help me to see where you are blessing me, even in the midst of this pandemic. Give me a new pair of eyes, so I can more clearly see your grace:
Let me see the generosity of health care workers on the front lines as a sign of your love.
Let me see the care that I have for my family as a sign of your compassion within me.
Let me see my sadness over the virus as a sign of your sorrow for those who suffer.
Help me to give other people something to be thankful for:
By being generous to them when I am sad.
By being patient with them when I am tired.
By encouraging them when I am feeling low.
Most of all, draw me closer to your Son. During his time on earth, Jesus saw people who were hungry, visited people who were sick and wept over the death of his friend Lazarus. He entered a world of illness, suffering and death, so he understands what we are going through—not only because he is divine and knows all things, but because he is human and experienced all things.

So on Thanksgiving this year, teach me to be thankful, Almighty God.
Amen.

1 Comment
kl
- November 26th, 2020 at 9:14am
We don't deserve God's blessings that He gives us everyday but He keeps on giving anyway. True and lasting joy and peace is found in knowing Him and living for Him every moment. This world is passing away but through Jesus we have an eternal home in Heaven.